Barrier Island Station
Duck
North Carolina
27949
US
"Sharky's Specializes in Putting People Together!" Getting everyone onto a charter is our top priority and we work really hard to make sure every customer has the chance to enjoy the Outer Banks fishing experience. We represent charter boats that specialize in everything from inshore charters and sound fishing (custom designed for the family with children) to deep sea offshore sportfishing adventures for mahi, tuna, wahoo and marlin.
10407982_1500874266793440_3479266776987315783_n.jpg
8 months ago
You must login to post comments
You must login to post comments
Hatteras, NC 27943
66.13 mi
North Carolina, USA | Fishing Charter / Guide Tradition Fishing Charters is an in-shore charter o...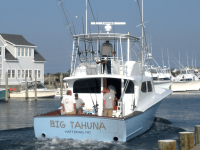 Hatteras, NC, United States
66.13 mi
The historic Outer Banks is well known for having some of the most fertile offshore angling water...