262 Fairview Rd, Searcy, AR 72143, United States
248-266 Fairview Road
Searcy
Arkansas
72143
US
About Leland's Lures
Leland's Lures began in 1997. It started with one lure, the Trout Magnet. Now Leland's Lures carries many products for trout and crappie enthusiasts. What began as a hobby for Jeff Smith and Todd Gainer, owners of Leland's Lures, has now developed into something more. These two, with many other friends and family, were catching more fish than anyone else on the stream. The secret kept among these friends for so many years is now available for everyone. "The Secret's Out!"
Leland's Lures products are now sold all across the country and regionally through Wal-Mart. We dedicate the success of this company to the Lord who has opened the doors to make all things possible.
---
Trout Magnet
The unique 1/64oz shad dart head and split tail allows the lure to fall horizontally rather than vertically. Their entire food source flows down the stream with the current. This is why most jigs do not work for trout. The Trout Magnet, on the other hand, flows naturally with the stream. With constant 1″ to 3″ twitches of the rod tip, the lure looks life-like as it flows downstream. Most jigs would not respond to this type of rod tip motion. For first time users we recommend using colors pink, chartreuse, mealworm and white. The lure is 1 1/4 inches in length.
Crappie Magnet
The Crappie Magnet is slightly larger than the Trout Magnet at 1 1/2 inches in length, allowing you to fish in deeper water. Crappie prefer the look of a straight Crappie Magnet because it looks like their food source. The specially designed split-tail grub allows for a perfectly balanced lure. The most effective way to use this lure is dead-stick the Crappie Magnet at the proper depth. It will outfish other jigs using this method.
You must login to post comments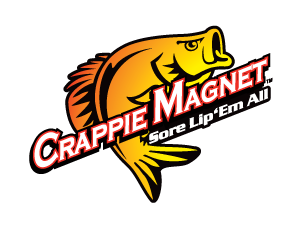 You must login to post comments