This
post
was originally published on this linked
web site
as a
Fishing Report from For Shore Fishing. 
August 10, 2018
By Michael Wilson / Ledger correspondent
Mangrove Snapper — Mangrove snapper remain the most consistent bite for Tampa Bay area anglers. Good numbers and larger size fish are being reported from most spots this week.
Strike Zone, 1, 3, 4, 5, 6, 7, 8, Elsewhere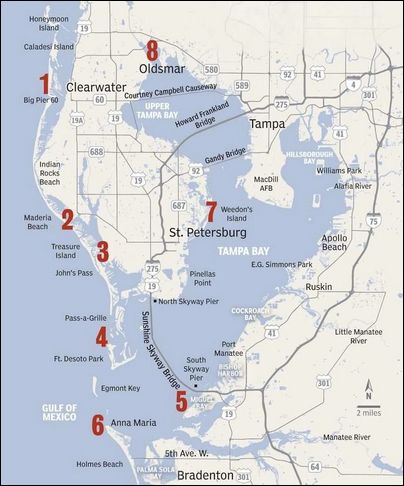 1: At Big Pier 60 in Clearwater, there's still some Spanish mackerel being caught early in the morning. The mangrove snapper bite has picked up down around the pilings. The trout bite has been steady, but better at night, The pier is currently open 24 hours a day from 6 a.m. Thursday to 10 p.m. Sunday; and Monday, Tuesday and Wednesday 6 a.m. to 10 p.m., reports Big Pier 60 Bait & Tackle (727-462- 6466).
2: At Madeira Beach, Spanish mackerel are on the bait schools just offshore. The hogfish bite is really good in 40-70 feet. Deeper offshore, the gag grouper bite is good from 110-140 foot. There's some nice red grouper too, but they're more sporadic. Triggerfish are good at 120-160 feet. Amberjack are biting at the springs and ledges in 140-180 foot. Wahoo are taking trolling skirts out past 160 feet, reports Capt. Dylan Hubbard of Hubbard's Marina (727-393-1947).
3: At John's Pass, "We're seeing lots of big snook in the inlet, but they are lethargic and taking dead or cut bait on the bottom," reports Capt. Dylan Hubbard of Hubbard's Marina (727-393-1947). Mangrove snapper are biting good around the bridge. Tarpon are rolling in the pass at night. Inside, trout and tripletail are biting around the dock lights at night, reports Hubbard.
4: At Fort DeSoto Park, nice size mangrove snapper up to 17 inches are being caught at the bridge along with some sheepshead. Snook and tarpon are still good under the bridge at night. There's a good snook bite around the mangroves at high tide. The redfish bite has really turned on around the mullet schools. At the pier, Spanish mackerel up to 16 inches are good. Snook are taking pinfish along the beach at sunset, reports Capt. Claude Hinson, of the Bait Bucket (727-864-2108).
5: Around the Sunshine Skyway and lower Tampa Bay, mangrove snapper are at all the bridges, rock piles, and any structure in the area. The snook bite is good on the higher tides from the Skyway south to Miguel Bay. Trout have been good along ledges on the deeper grass flats. Flounder have made a showing around the reefs and ledges around Terra Ceia. "Big schools of redfish moved in on the last full moon, so keep an eye out," reports Capt. Shawn Crawford of Florida Sport Fishing Outfitters. (941-705-3160).
6: At Anna Maria, "Red tide has moved into the area and I wouldn't bother fishing south of the Manatee Avenue Bridge. All three of the passes (Longboat, New, and Big) have been hit hard by the bloom," reports Capt. Scott Moore of Bradenton (941-713-1921). moorefishing.com To the north, they're still catching fish. Some snook and bait are around the pier. Terra Ceia and Miguel Bay has good snook, trout, and some redfish. Offshore is clear of red tide about seven to eight miles out and there's a good bite for mangrove snapper and grouper, reports Moore.
7: At St. Petersburg, there's a pretty decent trout and redfish bite off the Pinellas Point area along with some Spanish mackerel. Mangrove snapper are good along the edge of the shipping channel, around the Skyway Bridge, and most structure in the area. Some pompano are biting at the Misner Bridge. The snook bite is still good on the beaches and around the passes. There's also some tarpon along St. Petersburg Beach, reports Larry Mastry of Mastry's Bait & Tackle (727-896-8889).
8: In the north end of Tampa Bay, the mangrove snapper bite is good at both the Gandy and Howard Frankland Bridges. The beginning and end of the tides are best. There's some trout mixed in with the snapper. Small snook are being caught along the shorelines between both bridges. Weedon Island is holding good schools of baitfish, reports Capt. Chuck Rogers of Finsanity Charters of Tampa (813-918-8356).
Elsewhere
– At Fort Pierce, "This weekend marks the opening of recreational red snapper season in Atlantic Federal waters. We're looking forward to this as there's been a good bite leading up to opening day," reports Clint Walker at the Fishing Center of St. Lucie (772-465-7637). Offshore, there's a decent mangrove snapper bite along with some lane snapper and triggerfish. On Wednesday, a lot of kingfish showed up at the 50-80 foot mark, but the mahi have been sporadic. A good amount of summer sailfish have been caught the past couple of weeks. At the inlet, snook are being caught from the jetty. Two 40 inch fish were caught Wednesday on Flair Hawk Jigs. Mutton snapper are just inside the inlet and mangrove snapper are inside all the way to the bridges. Trout are biting good on the inside flats with good grass, reports Walker.
– At Homosassa, keeper trout are being caught in rock grass over hard bottom. The redfish bite continues to be good on the incoming tide. Live pinfish has been the best bait. The near shore rocks are alive with grunts, mangrove snapper, and Spanish mackerel. Live or fresh dead shrimp will get the bite, reports Capt. William Toney of Homosassa Inshore Fishing Charters (352-621-9284).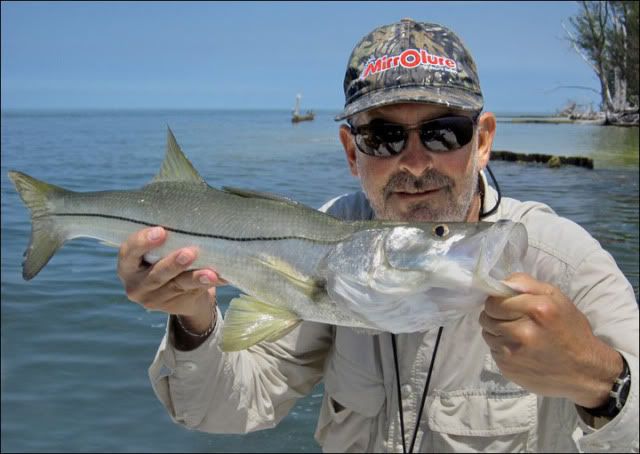 "May your lines be tight and your shake off's and break off's memorable."