This
post
was originally published on this linked
web site
as a
Fishing Report from For Shore Fishing. 
May 31, 2018
By Michael Wilson / Ledger correspondent
Bluegill — Despite the rainy weather, the bluegill bite remains excellent for Polk County area anglers. Good numbers of bluegill are coming in from just about every lake in the region.
Strike Zone, 1, 2, 3, 4, 5, 7, 9, 10, 11, 12, 13
Around Polk County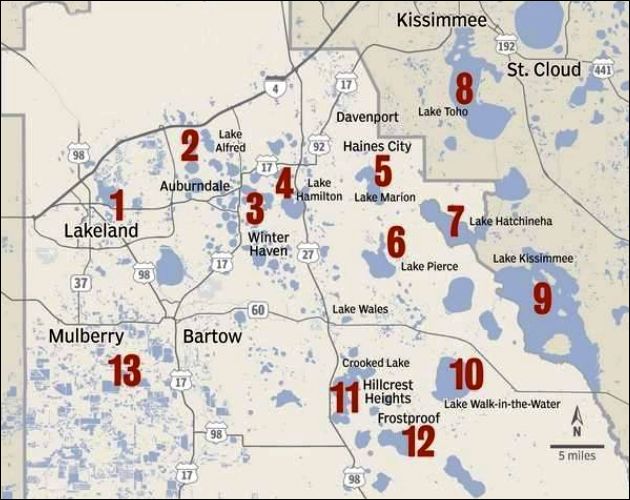 1. Around Lakeland, between the rains, the bite has been good for small bass on silver side, black back or blue back Rattletraps. Bigger bass are taking medium size wild shiners. The bluegill and shellcracker bite is good on crickets and red worms. "The back of the park has seen the best action for all the fish," reports Melinda Lapina at Phillips Bait and Tackle (863-666-2248).
2. At Auburndale, Lake Ariana has been good for bluegill and catfish around running water. In Lake Alfred, all the surrounding area lakes have a good bite for bluegill, shellcracker, and catfish around running water with limits of bluegill and shellcracker being caught. There's also lots of schoolie bass in the three to four pound range. Lakes Alfred, Haines and Rochelle have been best, reports Ron Schelfo at Ron's Tackle Box (863-956-4990).
3. At Winter Haven, on the south chain, all the canals are good for bass, bluegill, shellcracker, and catfish. "It's mainly the mouths of the canals that are the best. There's lots of schooling bass, nothing real big, but decent fish. The best baits have been Booyah lipless crankbaits, Bass Assassin Boss Shiner swimbaits, and Heddon Chug'n Spooks in bone color, reports Schelfo.
4. At Lake Hamilton, they're catching bass in all three of the lakes, but the big lake has been best. A nine pound, two ounce bass and two seven pounders were caught this week. Flipping plastic worms from the deeper middle park of the lake to the outer grass edges has been best. "These fish are not in the runoff," reports Mickey Ingram at Hoppy's Marine (863-439-7616). Bluegills are also biting good on the deeper water shell bars in the big lake, reports Ingram.
5. At Lake Marion near Haines City, the shellcracker and bluegill bite really picked up late last week. Two hot spots on the lake were the lily pads in the southeast corner, near the gazebo and in the northeast corner around Marion Creek. Grass shrimp and chartreuse jigs are getting the bite. "Local angler, Doug Sarvis, has been catching 14-16 bass a day on plastic worms off his favorite dock on the southwest corner of the upper lake," reports Eileen O' Leary at Bannon's Fish Camp (863-422-1223).
6. At Lake Pierce, the bass fishing was good this past weekend. Some real nice fish up to six pounds were caught on Gambler Big EZ swimbaits in red ear color. Some shellcracker were caught on red worms around the south side of the lake, reports Jennings Resort (863-439-3811).
7. At Lake Hatchineha, bluegill are still biting in the reeds and lily pads. Flipping jigs in the reeds has been productive for bass. Frog baits, such as the Teckel Sprinker Frog, are also catching fish in the reeds, reports Chuck Metheney at Bridgemaster Fishing Products (863-676-1009).
8 At Lake Toho, live shiner fishing for bass has been phenomenal. Anglers are getting 20-25 fish per morning. The fish are moving to the outside grass lines and clumps of hydrilla. There's also some schooling action throughout the lake in some spots. Topwaters are good first thing in the morning and then 10 inch worms in Junebug color, once the fish go deep. Use swimbaits for the bass up in the grass. Whaley's Landing and Gobbler's Cove are good places for action in the grass, reports Mark Detweiler at Big Toho Marina (407-846-2124).
9. At Lake Kissimmee, schooling bass are biting in moving water around the Cypress Canal. Topwater frogs and swimbaits are best early in the lily pads and grass. Later in the day, try flipping jigs or creature baits. Catfish are also biting good around any moving water. "The bite is on fire using worms and Magic Bait," reports Chuck Metheney at Bridgemaster Fishing Products (863-676-1009). A good mix of bluegill and shellcracker were caught using red worms on Lake Kissimmee over the weekend. Boats with two to three anglers had 30-40 fish per boat, reports Leo Cosce at Camp Lester (863-696-1123).
10. At Lake Walk-in-the-Water, the bluegill are biting in the lily pads and grass. Anglers have been getting their limits on crickets and the full moon phase has them biting good, reports Chuck Metheney at Bridgemaster Fishing Products (863-676-1009.
11. At Crooked Lake at Babson Park, despite the rainy weather this week, a couple of anglers caught some nice specks and the bluegill bite is pretty good. One angler also had some decent size "butterball" (brown bullhead) catfish. There's been a few bass the last couple of days, mostly schoolie size fish down along the south, U.S. 27 side, reports Cindy Ritchison at Bob's Landing (863-638-1912).
12. At Frostproof, bluegill are bedding in about 10 feet of water on Lake Reedy and the bite has been good there the last two weekends. Lake Arbuckle has been on fire for the bass because of the high water. Spinnerbaits and chatterbaits are getting the best bite. Despite the rain, Lake Clinch is still good for bass, but the bite has moved off the grass to about five to eight feet of water, reports Jim Childress of Big Bass Bait & Tackle (352-207-7520).
13. In the phosphate pits near Mulberry and Bartow, the bluegill bite remains good and despite the weather, there's still a lot of bluegill anglers out. Bass anglers getting out before the rains are getting some fish. Look for bass in areas with running water. The catfish bite is pretty good right now if you can find the deep water, reports David Andress of Mulberry Bait Company (863-943-4009).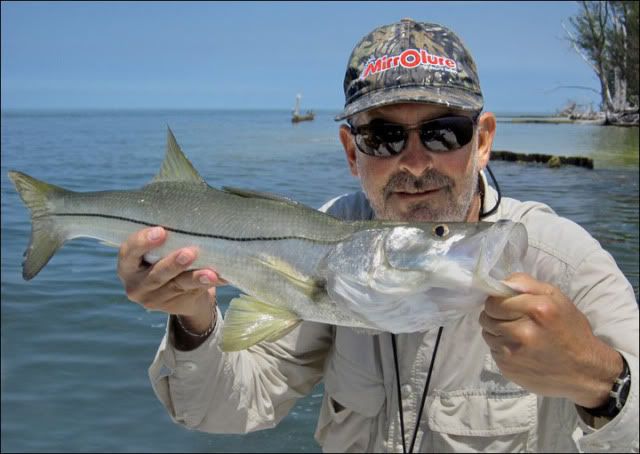 "May your lines be tight and your shake off's and break off's memorable."