This
post
was originally published on this linked
web site
as a
Fishing Report from Fly Fish Rockport.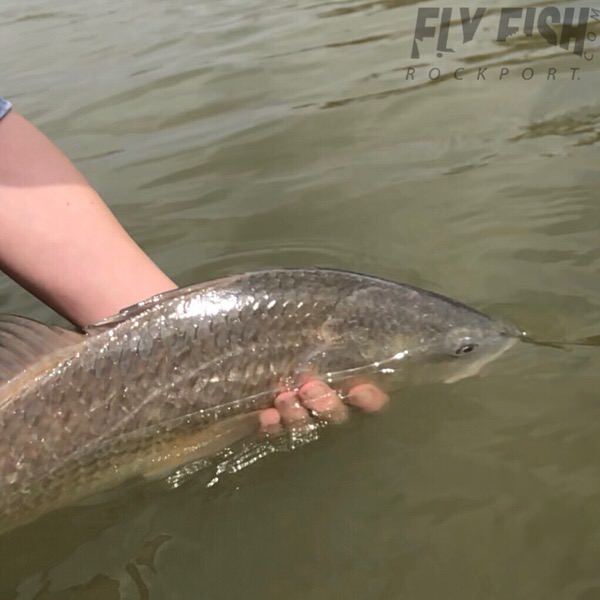 Here is another Rockport fishing report for the Southwest Texas Coast and waters in and around Rockport, Texas. It has been another busy week since our last report. So we will do our best to get everyone up to speed with what we have seen the past couple of days and hope to see for the days ahead. So here goes your Rockport fishing report for the fleeting days of March.
The fishing has continued to improve, as expected, with the consistently warmer weather. The cooler days and nights seem to be a thing of the past, finally. So the warmer weather has continued to warm the water throughout all the bay systems as well. This is a very good thing for our fish and fishing. Our Spring fishing is finally in full swing around here.
The sunnier days are easily our best. Not just for spotting fish, but for the abundance of food that is swimming along the flats as well. Lot's of baitfish in and around our shallow flats. This has a bunch of redfish and trout following right behind them. This had made for some pretty decent topwater action in the low light of the morning. We are also starting to see small schools of fish tailing with a bit more frequency as well. Not every day necessarily, but they are far more predictable in the right kinds of water.
This past week has been very windy, even by normal Spring standards. We expect wind during our March/April fishing months. But very typically, the mornings are fairly light, then it increases as you approach your afternoon into the mid teens. For the past week, and this Rockport fishing report, it seems that we are starting our mornings already in the 12-15 mph zone, then going from there. This really hasn't affected the fishing too much it appears. Certainly it can keep us out of some of our water, as it may be too exposed to fish effectively. But beyond that, it is just a lot of work for both guide and angler. But despite the wind, the fish are there and behaving as they should. It's just a matter of getting the fly to them, which has proven to be very difficult as of late.
We have been spending quite a bit of time fishing around Rockport and the waters South from there. Looking for all the cover we can get from the wind by way of islands, mangroves or anything else that can give us a little shelter. We did have some fairly stout winds from the East/Northeast early in the week. For these couple of days we did favor the waters North of Rockport in San Antonio and Mesquite Bays. Again, the fishing has been quite good throughout. We are seeing tails and small schools many mornings. Those give way to more single cruisers as the day goes on. But the fish are moving pretty well and have been plenty willing to eat a fly. We have been seeing a bunch of large fish moving around these days. And you know it's Spring when you start seeing other random things swimming around. Over the weekend we saw our first ladyfish and even a small shark cruising the flats along San Jose Island. Not an every day occurrence for sure.
Our flies have been a mixed bag. On some of our foggy and darker mornings, we may start things out with some topwater offerings. The Tube Top, Chug Bug and Private Dancer have been our favorites. Smaller sizes have performed the best. Once fishing below the surface, we are liking some lighter flies these days. Lot's of fish are in real tight to the banks and skinny, so lightly weighted baitfish and crab patterns have been first out of the box. The Redfish Reaper, Reducer and Tube Sock have been used often. But the fish don't seem to be too terribly picky as they are motoring around the flats.
Our water is at a good workable level currently and should continue to hold there. It is looking like the remainder of this week will be a little more manageable in the "W" department. Even a day or so with some lighter North winds, which wouldn't be all bad. But after a small little front scheduled to pass through on Wednesday, we are looking at some very nice sunny days to finish out the Month. Its looking like we will have a really nice Easter weekend ahead, for those looking to get out on the water.
We are on the water every day this week. So we will try to get an updated Rockport fishing report out for everyone by April 1st. We will do our best to let folks know whats going out here on the flats. You can always email any time if you would like any up to the minute fly fishing or Rockport type news. We continue to post on Instagram, Facebook, Twitter and Snapchat. Or perhaps SUBSCRIBE to our YouTube Channel as well. We continually are trying to add more videos and stuff there. We try to keep stuff fresh for those of you that are wishing you were on the flats with us. So be sure to follow us on all our social media stuff. And don't forget to sign up for our monthly newsletter below.
Fishing Report from Fly Fish Rockport.