This
post
was originally published on this linked
web site
as a
Fishing Report from Fly Fish Rockport.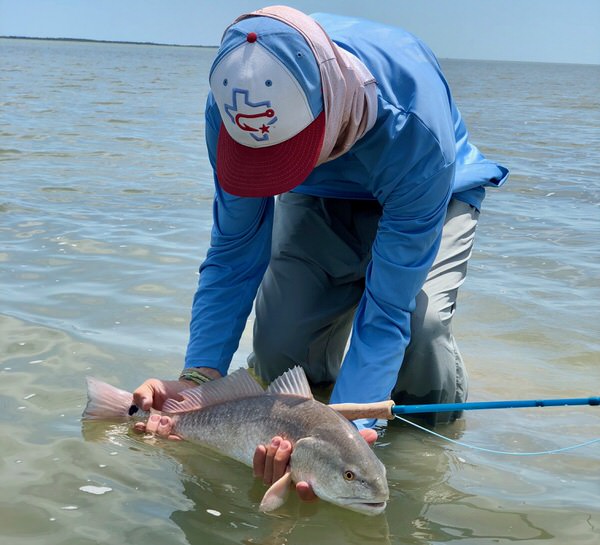 Welcome to the first Rockport fishing report for the month of June. May seemed to come and go pretty quickly. And with it, our nice Spring weather as well. So we are jumping head long into Summer, apparently, with the arrival of June.
Things have been warm lately. Maybe even a little too warm? It sure feels like we went straight from the month of May to the month of July out there. It has been pretty darn warm most days and nights as well. So this has the water warming up quite a bit too. Maybe a bit ahead of schedule, or at least a bit ahead of where we were this time last year.
The winds have been trending more towards the heart of Summer as well. Light morning winds were the norm this past week. Certainly nice for the angler. Although things get a little warm out there in the boat as the sun gets high. But you can usually count on a bit more of a breeze as the day goes on, helping it at least be bearable out there on the water.
This past weeks fishing was pretty decent. The week started out fishing just fine, with plenty of targets early each day and enough around in the early afternoon to keep the angler interested. There were a few schools and some random tails here and there, but cruising fish were most common in the mornings and throughout the day. As the week went on, and into the weekend, the fishing got a little bit tougher. Maybe it was a random occurrence or right place right time, or maybe it was the heat. We aren't real sure just yet. But the weekend dealt us a couple of pretty tough fishing days. Very few targets were available, in a variety of water, throughout our days.
Our water sure seems like it is a bit warmer than it should be by this time of year. Certainly something we are keeping our eyes on each day we are out. And this would most definitely explain some sluggish fish behavior as well. But fish still need to eat. So we aren't too worried about a couple tough days out there. It happens.
The coming week looks like much more of the same. Daily temps in the low 90's and average nightly temps. It is looking like a bit more wind out there on the flats this week. Not enough to be a problem at all. But just enough to make it a bit more bearable as that sun creeps overhead. All that said, this looks like a good week of weather for those headed down this way.
Our fly selections have remained the same largely. We are favoring small dark crab patterns. Or any other pattern you are able to fish very slowly, when dealing with some slow moving and lethargic fish. With these warmer days, you will find fish that will move slowly to your fly, investigate it a bit, and be more than happy to slink away. So we are fishing flies that are a bit heavier and easy to rest on the bottom, in between strips.
We have boats out all this week again. We will keep the reports coming and update everyone with what is happening out there on our waters. You can always email any time if you would like any up to the minute Southwest Texas fly fishing or Rockport type news. We continue to post on Instagram, Facebook, Twitter and Snapchat. Or perhaps SUBSCRIBE to our YouTube Channel as well. We continually are trying to add more videos and stuff there. We try to keep stuff fresh for those of you that are wishing you were on the flats with us. So be sure to follow us on all our social media stuff. And don't forget to sign up for our monthly newsletter below.
Fishing Report from Fly Fish Rockport.