This
post
was originally published on this linked
web site
as a
Fishing Report from Fly Fish Rockport.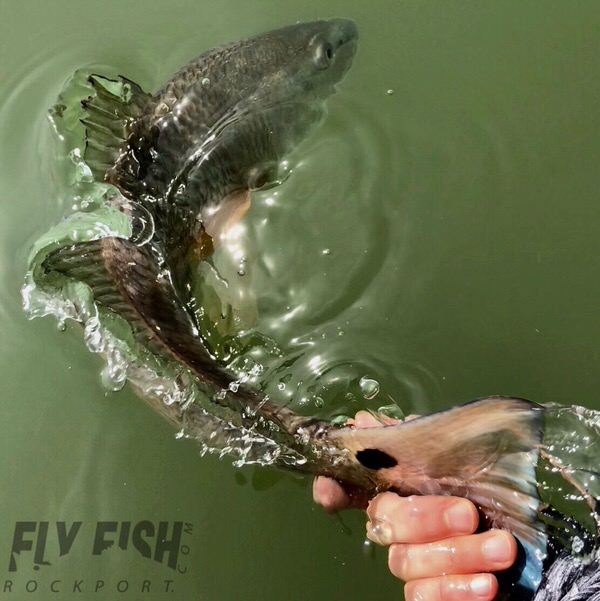 Here is your updated Rockport fishing report for early February. Things have started to improve a little bit, when the weather allows. But we still have a little ways to go, before we see our excellent Spring fishing. But this Rockport fishing report is certainly better than our last.
The weather is still the focal point of this Rockport fishing report. We will sneak in a couple of nicer days here and there. Unfortunately, those have been closely followed by another cold front and overnight temps in the upper 30's. As we write this, we are watching it rain and listening to a stout North breeze at 25+ miles per hour. So not exactly our nicest evening. And with overnight temps around 35 degrees, this will keep us off the water tomorrow as well. But this weather can't hang over us forever, right?!?
It's looking like mid this week we are back in the 70's, where we should be this time of year. But we are still a little light on sunshine. Lot's of grey cloudy days still lingering around. Not the end of the world for the fishing, if its calm enough to get out there and see fish. But certainly not ideal either.
Over the past few days, and through the weekend, we were able to get a bunch of boats out on the water. With less than perfect conditions, everyone still managed to get on fish. So that isn't too bad. We fished areas as far North as Port O'Connor, and had boats further South over the weekend down South of Port Aransas as well. The fishing was pretty consistent throughout. We weren't seeing fish everywhere necessarily. But when you found fish, you found a lot of fish. They were all very near each other.
Up North, we were finding a bulk of fish pushed all the way back through the creeks and into lakes. Although our water has come up a little bit, it is still on the lower end of the spectrum. So many of the lakes are far from normal levels. But there is enough water to get back in there a little ways. Once you do, there were fish… lots of them. As our tide was bringing in new water over the weekend, it did bring some silt with it. So a couple of the lakes drawing in water were a bit off color. It wouldn't be a problem at all, had it been sunny. But with the high overcast, that did make it a little tricky seeing fish.
Fly fishing in the Port Aransas area was very good on Saturday. We were dealt very foggy/cloudy weather throughout most of the day. But with flat calm winds, the visibility was actually pretty good. We focused on light colored bottom, in an effort to improve our vision, and very skinny. We were hoping to find some tailing fish in the low light conditions, but saw very few.
Due to the extended cold weather, most all of our turtle grass beds are brown and dormant. These hold much more life; crab, shrimp, etc. when they are green and growing. Also, you will find far more fish rooting around in them and waiving their tails out of the water. But these grasses will begin growing and be a nice bright green color soon enough, as things warm up.
We saw plenty of fish while searching around South of Port A. With the exception of a couple of tails, all were cruising the flats very slowly. With the calm conditions and slick water, the fish were incredibly spooky. All of our shots at fish were long. Even still, most of the fish would spook as the angler began casting or sent a cast in their direction. It was pretty tricky. But we were able to get flies to a few. And it was nice to see a good number of redfish cruising the flat. We also stumbled upon a good handful of black drum as well.
With all this cold water, we aren't seeing too many crab running around out there. That being said, they are still willing to eat the fly just fine. Sand eel and mullet flies worked well up North. We went to either a very light crab or shrimp pattern down South, in an effort to not spook fish with our presentation. All were working just fine.
We canceled our boats for Monday, due to the weather. But we are back on the water the rest of the week as it warms up. Hopefully we will continue to get some of our water back in the bays, as our winds turn back from the Southeast. That will certainly help warm things up and allow these fish to spread out a bit more. As our water warms up, we expect the fishing to as well. So we are pretty anxious to see a bit more Spring weather around here.
We will get an updated report out at the end of the week, with what our guides were seeing out on the water. But you can always email any time if you would like any up to the minute fly fishing or Rockport type news. We continue to post on  Instagram, Facebook, Twitter and Snapchat. We try to keep stuff fresh for those of you that are wishing you were on the flats with us. So be sure to follow us on all our social media stuff. And don't forget to sign up for our monthly newsletter below.
Fishing Report from Fly Fish Rockport.